Teens who helped save driver to be honored by Clark County Commission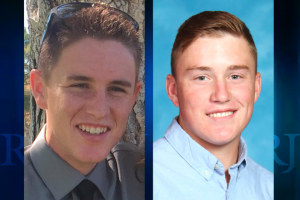 Gage Hanley, 17, and Daxton Longman, 17. (Gage Hanley and Moapa Valley High School)
By MICHAEL SCOTT DAVIDSON
LAS VEGAS REVIEW-JOURNAL
Without a moment's hesitation, the boys ran into the cold, dark water.
Minutes before, the two Moapa Valley High School juniors had been eating chicken tenders at The Inside Scoop restaurant in Overton.
But as Gage Hanley drove his Ford F-150 toward home in Overton just after nightfall on Dec. 16, he and Daxton Longman noticed something peculiar about a quarter-mile south of the Yamashita Bridge.
A group of people surrounded two cars stopped on the side of Moapa Valley Boulevard. The boys saw a pair of headlights below, partially submerged in a stream.
Gage parked, and the boys sprang into action.
They scurried down the embankment, slipping on loose dirt as they went and flying past two men calling out to the wrecked car's driver. Gage and Daxton ran into the waist-deep water and began wading upstream.
"We've played in that river since I can remember us being friends," Daxton said. "We've fished in it, we've swam in it, all sorts of stuff. So it's natural to us."
They saw a deployed airbag and a woman sitting behind the wheel of a white Nissan Altima. Her door was ajar, and the cold water was pooling around her ankles.
The boys scurried over the car's hood and pulled her out through the passenger side. Using a rope tied to a FedEx truck, all three climbed back up to the road.
The driver, 52-year-old Lidia Pena of Overton, was not injured, according to a Nevada Highway Patrol crash report. She wrecked the car in a distracted-driving incident.
Clark County commissioners will present Gage and Daxton, both age 17 and residents of Logandale, with the county's Medal of Honor at the commission's regular meeting Tuesday.
"I'm glad we had the guts to do it, because a lot of people didn't," Gage said. "But I don't feel special for going in. It just seemed like right place and right time."